#Our goals
Our goal is to provide fair and transparent information about network performance and connectivity all over the world. We want to bring the information to people who looking for most suitable datacenter to place their online projects.
#Rank
Multiple data center speed rankings
Gosys Service brings you the ranking of the world's data centers. Speed measurement takes place on a daily basis and the results are divided into regional, continental and world level.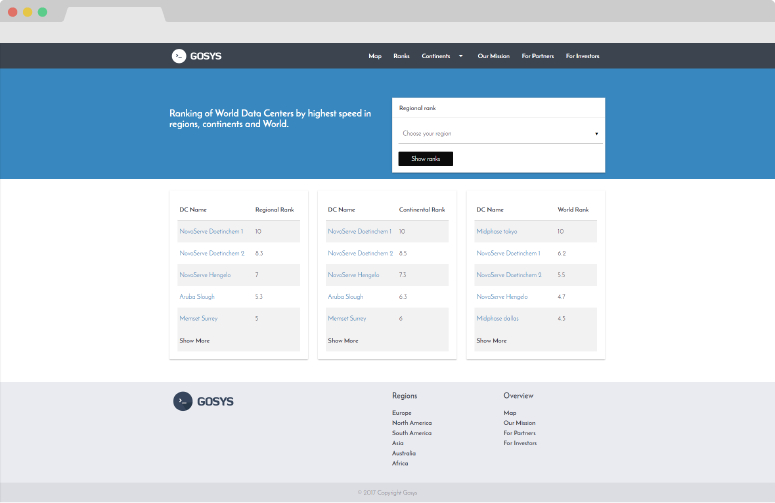 #Map
Find the best Data Center for your next project
Explore our map with more than 108 datacenter locations.
Launch map Numbers
Currently we have 108 agents
In more than 30 countries
News
IDG Contributor Network: HCI? HC why?
March 27, 2018, 11:34 pm

The IT industry is full of new ideas. The constant cycle of technology means new ideas always come along that promise to fix big challenges. Some of these ideas interest me straight away, because they clearly address a common problem. Others take time, ne
Oracle's cloud bravado masks its database despair
February 5, 2018, 12:00 pm

Oracle isn't normally one to expose its fetishes, but the company's fixation on Amazon Web Services has become glaringly, disturbingly obvious. Whether at OpenWorld, in analyst briefings, or on Twitter, Oracle can't seem to talk about anything else. Two y
Tech Talk: The coding benefits of serverless computing
January 26, 2018, 6:00 am

The panel talks about serverless systems, which spin up a snippet of code that runs on demand to perform a business operation. It's a step toward a more developer-friendly approach to code development.